Lettys VA Journey – What I have been upto in August
Hello Everyone,
I can't believe how quickly it has turned into Autumn already.  With the dark night's drawing in and the leaves turning on the trees.
August was a busy month for myself, unfortunately I fell ill to a migraine which put me to bed for a full day and stayed with me for five days.  Because of this you will have noticed that I have put so much emphasis into Migraine awareness this past week.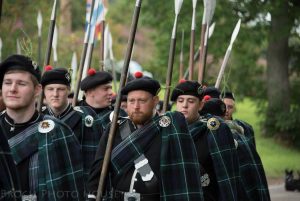 During the month of August, I travelled to the Edinburgh Tattoo with the Lonach Highlanders.  Who made their debut at Edinburgh Castle for the very first time.  It was an exciting day out although it decided to rain heavily on us it wasn't cold which made a difference on the night.
You will have noticed that on my cover photo for this month I have chosen to use an image of the Lonach Highlanders.  Some of you who know me will have spotted my partner Allan within the crowd.  Lonach is a wonderful local tradition within the Glen and it allows locals to spend some time together before the nights start drawing in.  And as we often say we won't see each other until the New Year come in which is often quite true.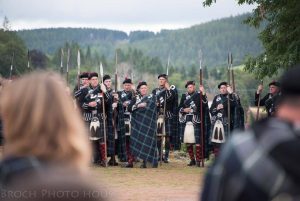 The girls loved getting to see their daddy march this year.  Although Amber did spend some time with her head in her hand but they had a wonderful time on the rides and watching the men march around the ring.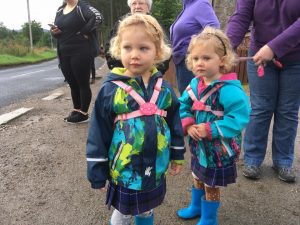 I have also been spending time with my girls.  I can't believe that they start Nursery after Christmas.  Not only will I have no children for the first time in three years at home.  I will also have more time to relax and focus on KeyStrokes more.
We have been spending time going for walks, swimming and playing with playdoh which seems to be their favourite thing just now.
Zoe who is not only my cousin.  But works with me in KeyStokes has been having a well-earned break from us.  She has had the last month at home with her family so we will be seeing her here again on Thursday and I am sure she will fill us in on what exciting developments have been happening with her life.
KeyStrokes has also been developing during August.  I have been focusing more on our online presence not only on Facebook but on LinkedIn as well.  So, if you haven't already please connect with me on LinkedIn as well.
I see that the Resume service has started to take off as I spent some time working with two very different individuals on their CV's neither of which had one before.  One of them only required his resume to provide to his current employer to update their records.  Whereas the other lady used hers to apply for a job which was a total change in direction and I was delighted to hear that she had an interview for the role at the end of last week.  Both advised me that they were extremely happy with the service received and the end results.  I haven't quite finished my eBook on how to get your dream job yet.   But I am working on it in the background and as soon as it is completed I will let you all know.
I have also had some new clients come to myself.  From very different backgrounds and channels.  Which I find exciting as I love the diversity that it provides and it also gives me the confidence that I can apply my skills across various businesses/ organisations/ charities.
I also spent time on the phone to Yva Yorston of Boost Business Support.  She specializes in content marketing.  However, when I first worked with Yva she provided Virtual Administration support as well.  When I was made compulsory redundant.  She was one of the first people that I picked up the phone to when I wanted to become a VA to ask how she did it.  And instead of treating me like a threat Yva has been very helpful.  We share ideas, talk about what's changing in our profession and any other useful pieces of information that we feel the other may benefit from.
I also found out that there are going to be additional changes to Data Protection in 2018 called GDPR.  I am going to be looking on finding out more myself and will pass on any relevant information that I feel may benefit you as my clients.
However, if you would like to read more about it now.  The ICO have put together a 12 step guide on what you can do.  Click on the leaflet below for more information.
There are lots online about it if you wish to research more yourselves.
In the meantime, I wish you all well and will keep you posted on any developments.
Letty