VA Interview – Donna Gray of Small Prints Photography
Hello, my name is Donna Gray and I run my own new-born photography business called Small Prints in the heart of Aberdeenshire.  I have known Letty for many years now and when she invited me to be part of her monthly newsletter I was delighted.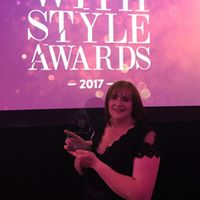 Prior to picking up the camera I had trained to be a florist and I had loved it.  As I found it very rewarding and it allowed me to be very creative while giving customers a very personal bespoke service. However, once I had my family I found the hours and the spiralling costs of childcare meant I decided to part ways with my career and become a full-time mum.
Being a full-time mum is fantastic.  I have learned so much from my children as they are all unique with their nature and  I've loved being there for them and not missing any milestones.
As mum to six young children I wanted to capture the excitement of when you first get your little one from home hospital.  During each of my pregnancies I would search in vain to find a photographer who specialized with new-born photography.  However, to my surprise I was unable to find anyone within the Aberdeenshire area who was specifically trained and dedicated to this genre.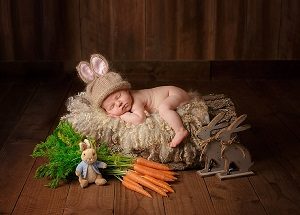 My interest in photography grew further after my fifth child was born.  Determined to provide the service I was dreaming of, I embarked on re-training in photography.  I passed my end of course assessment with a passmark of 94%. So, I decided to pursue more training in this specific genre of photography.  I am sure that any mum can relate with the fact that it is not easy juggling being a housekeeper, cook, wife, nurse and then on top of that being able to do something for myself which I loved, it was a struggle.  But it was worth it!
Small Prints was launched on 10th October 2010.  I find it really rewarding and a privilege to be invited by parents to capture their journey into parenthood in images that they can keep and treasure for a lifetime.  I remember too well how precious those newborn baby days were, they pass so very quickly in a blur of excitement, relief, lost son visitors, and sleep deprivation.
Small Prints caters specifically for newborns, because I feel that settling, posing, lighting a capturing new-born requires a totally different skill set to any other type of photography. Like a recent tv advertisement says, you should hire 'the right person to do the right job!'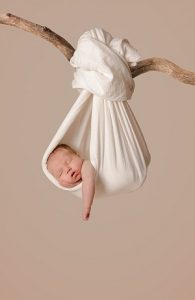 Newborn photography requires a lot of patience and time & skill; it also needs to be done safely.  It requires a specific environment, where you can control heat, light, sound and temperature so baby remains comfortable the whole time, and parents can enjoy watching their photos being taken and not be disturbed by un announcement well-wishers, if the shoot was in their home!
I love that I can see the families grow and with every new arrival they come back for another photo shoot.  And in 2013, we enlarged the studio which now enables me to accommodate siblings for comfortably.  I have taken care over our reception area as well ensuring that the space is cooler with a play area equipped with toys and books and even a smart television.  Allowing brothers or sisters to take a break whilst we continue with the photographs.
I find that it is important to keep setting goals for myself as it keeps me focused not only in developing myself but by keeping my business moving forward. By our second business birthday, I'd gained qualifications only held by the top 10% of practitioners in the UK and on the way, I'd won multiple gold awards and numerous highly commended awards.
As Small Prints turned 3. I received the award for Craftmanship from The Photographers Academy.  I was required to submit a total of ninety-six newborn images for their judges to scrutinize.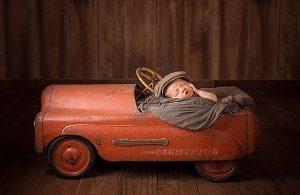 Shortly afterwards I was accessed by the guild of photographers, specifically on newborn work, and awarded a Craftmanship of the and I am one of less than ten people within the UK to hold this qualification.
Nationally Small Prints was recognized as "Best interactive business" by Mumprenkeur UK for the close way in which I work with newborns and their families while working around my own family building my business.
Most recently I received the much sought after Creative award from Trend magazine, at the Life with Style Awards for 2017, after so much national recognition it is lovely to have local recognition too. Especially as this is a very strongly contended category with a diverse range of businesses within it.
I believe in personal development and I spent some time training in 2013 with 'Baby as Art' who are world class new-born photographers from America.  And in the summer of 2014 I received training with Kelley Ryden and Tracey Raver.  This was truly a dream come true for myself.  These ladies have inspired me so much from the very beginning and my admiration for their work drove me to start my very own business.
This hasn't been an easy journey to get here.  However, as we approach Small Prints seventh birthday I am proud of what I have managed to achieve.  Not only do I have a loving husband and six adorable children.  I created a business which I love and continue to love as it continues grow and deliver many happy memories to many families across the north east of Scotland and beyond.
One of the most rewarding parts of my job, is to work with parents and their new arrivals. Parents are always amazed at what can be achieved and at how peaceful and relaxing their session is. My sessions are led by baby, and nothing is ever forced. My first priority is always the safety of their little one and baby rest's and feed's when needed between cute poses.
I pose your baby skillfully, safely & calmly; crafting your beautiful images & creating memories that will stay with you and your baby for a lifetime.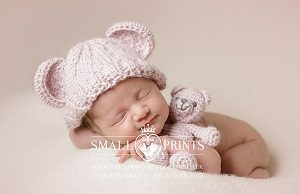 A new-born session costs £95 and collections of prints and wall art start from just £375
I also offer a thank you gift to the local new-borns who have a photoshoot.  Who live within the Strathdon, Towie or Lumsden school catchment area. Soon I'll be running some promotions on our Facebook page, to celebrate our 7th year business birthday!
Due to the high demand for my services I advise that parents book in advance to avoid any disappointment usually after their first or second scan. I book with your due date to secure availability then schedule the shoot once baby is here, usually within the first ten days.
If you would like more information or a copy of my brochure please do not hesitate to contact myself at  Donna@smallprintsphotography.co.uk or visit my website http://smallprintsphotography.co.uk/
Or why not visit my Facebook page https://www.facebook.com/smallprints where we have 80+ 5* reviews from new parents.